Couples Therapy
Because people change as they move through their lives, intimate relationships need to change and grow as well. When partners remain open and accepting, intimate relationships can be a source of great pleasure, comfort, and vitality. But just as intimate relationships stir our greatest longings, they can also awaken our greatest fears and spark intense feelings of disappointment and hurt or resentment and betrayal. Sometimes avoidance, defensiveness, or even destructiveness take hold as each partner struggles to protect their vulnerabilities and maintain their balance. Couples therapy can help intimate relationships get back on track and transform the confusion and pain of relationship gridlock into opportunities for growth and intimate connectedness.
I continually strive to establish a climate of emotional safety in which openness to and curiosity in one's own and one's partner's experience can flourish. I practice a relationship-based approach to couples therapy which is exploratory and insight-oriented. This approach is designed to:
help each partner articulate their view and experience of the relationship
help each partner understand, relate to, and more fully appreciate the other's experience
identify patterns of behavior, thinking, and feeling which contribute to difficulties
clarify the underlying meaning and significance of entrenched conflict
improve listening and communication skills
identify how individual issues interact in the relationship to create conflict, misunderstandings, repetitive dynamics, and impasses to greater intimacy and connectedness.
clarify the impact past significant relationships are having on the current relationship
increase trust and lessen defensiveness
increase the couple's ability to resolve conflicts on their own through increased awareness of self and other.
Common Reasons For Seeking Couple Therapy


frequent misunderstandings and constant fighting
lack of warmth and closeness
lack of sexual intimacy
lack of communication and a sense of connection
conflicts over parenting, in-laws, money, etc.
a "walking on eggshells" feeling
infidelity
past abuse/trauma
feelings of alienation, defensiveness, and lack of trust within the relationship
changes to the relationship following the birth of a child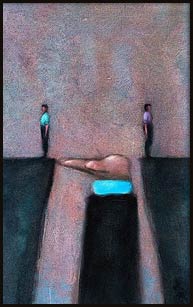 "I continually strive to establish a climate of emotional safety in which openness to and curiosity in one's own and one's partner's experience can flourish."
Serving: Individuals & Couples
Address:

445 Bellevue Ave, Suite 203
Oakland, CA 94610
Phone: 510.381.3090
Email: Vitek-deleteme[at]-deleteme-sonic [dot] net