My Practice
My psychotherapy practice is a general practice in which I see adults in individual psychotherapy and couples in marital or couples counseling. I have experience working with a diverse clientele and welcome individuals from all racial and ethnic backgrounds. I also have experience working with gay and lesbian clients, whether in individual psychotherapy or in couples counseling. As a skilled individual and couples therapist, I have successfully treated a wide range of difficulties including depression, anxiety, self esteem issues, avoidance and procrastination, perfectionism, relationship issues, work-life balance, issues related to past trauma and abuse, and many more.
I make a point of working collaboratively with all my clients in that I am an active participant during sessions and periodically solicit feedback about your experience of the therapy process. We will work together to decide, depending on your goals and the nature of your difficulties, whether a brief psychotherapy approach is best or whether a more open-ended one would be appropriate. Brief psychotherapy, which usually lasts less than six months, works best when you feel relatively stable in your life and want to focus on one specific area of difficulty. Open-ended psychotherapy allows for a broader focus and a deeper level of exploration in which ample time is allowed for multiple themes to develop.
At the beginning of therapy, we will negotiate a kind of psychotherapy contract in which we will agree to meet at a given frequency, usually once a week, at a set time, and for a given fee. Occasionally, circumstances are such that I may suggest meeting more than once a week. The consistency of appointments and mutual commitment to the psychotherapy process are important ingredients to a successful outcome.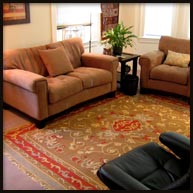 "I practice a relationship-based approach to psychotherapy in which we will pay special attention to how you relate to your self and others."
Serving: Individuals & Couples
Address:

445 Bellevue Ave, Suite 203
Oakland, CA 94610
Phone: 510.381.3090
Email: Vitek-deleteme[at]-deleteme-sonic [dot] net